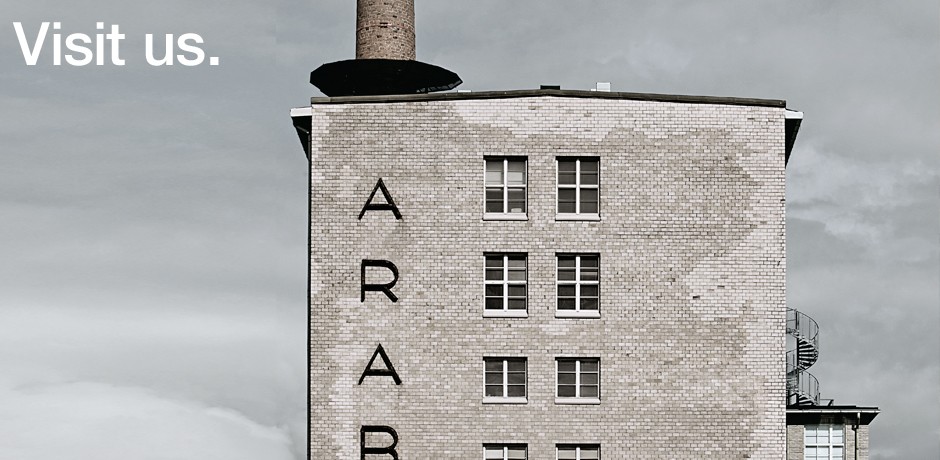 Visit our glassworks, our porcelain factory and museums in Helsinki, Iittala and Nuutajärvi. Iittala and Nuutajärvi museum you can learn about the history of glass and to see products created by our famous designers. These design items are cornerstones of the famed Finnish tradition of design and collectors' treasures. Our museums also feature fascinating temporary exhibitions and sell literature on the subject.
Helsinki: Arabia museum
The Arabia museum (Design Museum) displays objects made at the factory, from the early years of production to the present day. Museum is open Wed-Fri 12 am –6 pm, Sat-Sun 10 am – 4 pm. Tel. +358 204 39 5326, arabia.visitors@iittala.com.

Iittala outlet Arabia is open from Monday-Friday 10 am – 8 pm and Saturday – Sunday 10 am – 4 pm .
Iittala
Welcome to Iittala to see our glassblowers at work in Iittala, Hämeenlinna. The glassworks is open daily from 9 am to 6 pm. Free guided tours to the Glass Factory will leave from the Museum as follows:
30 June – 12 August: daily at midday and 3.00 pm
28 May - 29 June and 13 - 31 August: on workdays at midday and 3.00 pm (except 22 - 24 June)
The Iittala Glass Museum (Design Museum) was opened in 1971, as the factory celebrated its 90th jubilee. Architect Juhani Kivikoski designed the museum into an old cowshed building. Nowadays there is an exhibition of Iittala glassware. Museum is open from September - April Sat - Sun 11 am – 5 pm and from May - August daily 11 am – 5 pm. Guided tours to the museum exhibitions and the glass factory can be reserved in advance on tel. + 358 (0)204 39 6230, fax. + 358 (0)204 39 3516 or by email to iittala.museum@iittala.com.
Iittala outlet Iittala is open in May-August 10 am – 8 pm and September - April 10 am – 6 pm
Nuutajärvi
In Nuutajärvi, Finland's oldest glass factory, you can experience the genuine atmosphere of an old foundry and discover the secrets of art glass. For over 200 years, great craftsmanship has gone into making the fascinating glass of this closely-knit foundry community in Urjala. Nuutajärvi is on the Turku-Tampere road (Route 9) about 105 km from Turku and 65 km from Tampere.
Iittala outlet Nuutajärvi is open in September – May 10 am – 6 pm and June - August 9 am - 7 pm.
The Nuutajärvi Glass Museum is open in July Tue-Sun 10 am – 5 pm, other times for group visits only.
Admission museum: Adults 4,00 e, children/students/pensioners 2,00 e, groups over 10 persons 1,50e/person.

There are guided tours to the Nuutajärvi Glass Factory on weekdays. Guided tours to be reserved in advance from Nuutajärvi outlet, tel. + 358 (0)204 39 3527, fax 0204 39 3531 or by email to shop.nuutajarvi@iittala.com.
Group prices: Group max 50 persons 40,00 e/group.
The Nuutajärvi Glass Village also offers accommodation and conference facilities for groups. The Hytti evening programme during which visitors also get to try glassblowing is a memorable experience. Enquiries and reservations, tel. + 358 (0)204 39 6505.
Please note, that there may be changes in opening hours on public holidays.